Eat. Sleep. FISH.
Spring is a great season for bass fishing; or really any fishing. Nothing beats spending time on the water with the peacefulness that the sport brings. It's a way to get away from the hustle and bustle of our world and get outdoors.
When it comes to quality gear and accessories for all your fishing needs, Bass Pro Shops should come to mind. Founded in 1972, Bass Pro Shops is North America's premier outdoor and conservation company. They provide unrivaled products, dynamic locations, and excellent customer service. They know their stuff and they have just what you need.
You'll find Fishing Rods, Fishing Reels, and Fishing Accessories of top brands. It also doesn't matter your specialty; Fly Fishing, Ice Fishing, Saltwater Fishing, or any other type you prefer. At Bass Pro Shops, they've got the gear to help you pursue your trophies.
With some of the best Fishing Lures and Terminal Tackle out there, you'll also be able to add to your vast collection of other top accessories. Just be sure to browse their Rod Storage and Tackle Storage solutions to make sure all your new fishing gear stays in the best condition.
For a few top fishing products, check these out!
Hold everything you need with the Bass Pro Shops Extreme Qualifier 370 Tackle Bag or System. This heavy-duty bag is designed with water-repellent polyester construction and has a reinforced bottom to last for many fishing trips. It also can hold up to five 370 utility boxes and comes with a number of zippered and mesh pockets. Choose the entire system or just the bag.
Just in, the NEW Bass Pro Shops Tourney Special Spinning Rod and Reel Combo is a great option. You don't need to be a tournament angler to enjoy this top-quality rod-and-reel setup. Remarkably powerful and incredibly responsive, this combo features a graphite frame and rotor, double-anodized aluminum spool, split-grip EVA handles, and more!
For those that are just looking to update their rod, the Bass Pro Shops Johnny Morris CarbonLite 2.0 Casting Rod could be the one to get. With over a 4-star rating, this rod was built with Carbon Coil Technology™ that creates a double-helix configuration of materials for structural reinforcement for a competitive edge.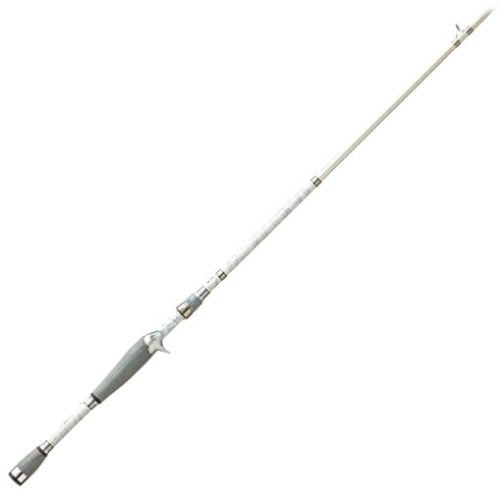 Experience the thrill of catching bigger fish with quality fishing gear from Bass Pro Shops. As long as you have Bass Pro Shops on your side, you can expect a successful day on the water.