School's Out for Summer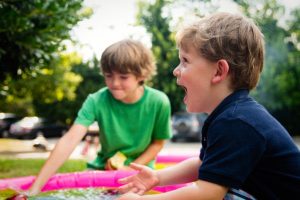 Now that summer has arrived and schools out, it can be difficult trying to keep the kids busy and entertained. Sure, letting them binge watch tv or play video games seems like it would be an easy solution, but kids should be getting outside.
Outdoor activity is more than good fun, it's essential to a child's well being and development and offers many different learning experiences. It helps them test their limits in what is a safe environment, problem solve by themselves, and spend time with friends.
This doesn't mean you should start a summer itinerary, life's really busy already. Instead, find some fun outdoor games that your kids will be excited to play. Online stores like Bass Pro Shops is the perfect place to shop since their entire focus is on getting people outdoors.
Here are 3 top picks from them that you should check out…
Wild Sports Giant Yard Dice Outdoor Game
Yahtzee! Take the classic game outside with this giant version. Made from solid wood, your kids will have a blast shaking and throwing the dice; while little ones will surely love stacking them.
B4Adventure® Dreamcatcher Rope Swing
A swing is a super addition to any outdoor space and this unique version is the way to go. Made with a hand-woven dreamcatcher design, this rope swing features a 38″ diameter so it easily holds several children at once for maximum fun!
B4Adventure® Slackers Eagle Series 90′ Zipline
Really take their outdoor fun to the next level with this zipline kit. Featuring weather and impact resistant parts and a seat to increase rider security, the entire family will have fun with this one!
From classic to unique outdoor options, Bass Pro Shops has an incredible collection. Browse their entire Outdoor Games selection and see what your family will enjoy this summer!